So you're planning your baby shower, and all of a sudden, you find out you're having twins. Don't panic! We've dug around for some of the cutest twin baby shower ideas – from themes, to decorations, games and more, we've got you covered to have the best twin baby shower around.
Themes Over at Twin Pregnancy and Beyond, we found tons of baby shower themes to help inspire you. They feature their themes for purchase on their Cafe Press store. Themes feature tons of baby shower needs, like mugs, notepads, cards (invitations and thank you's), hats and t-shirts. Here's just a few popular themes we found from Plan-The-Perfect-Baby-Shower.com:
Two Peas in a Pod
Double Trouble
2 Wonderful for Words
Twice Blessed
Two of a Kind
Twice as Nice
They Came Two by Two (Noah's Ark)
One of our favorite themes is the 'Two Peas in a Pod' theme. It's a green theme – so it's gender neutral – and has adorable options for cards and other paper goods. For instance, here's an invitation from BirthdayExpress.com:
We found an adorable diy "Peas In a Pod" Baby Shower theme via Party Frosting blog:
The decor:
The favors:
These 'pea-pod' towels actually hold bath bombs – a fantastic diy party favor in the green theme! Party Frosting says: Use wash clothes or hand towels (depending how big you want) and round bath fizzes as decorations or favors! Extra fun would be to use a cookie cutter of the letter of the names and imprint! 
The cupcakes:
For the DIY spirited expectant parents, we found several twin baby shower blogs that could inspire you. This is one of our favorite fun, gender-neutral, easy breezy party feel themes: Birds & Bunting Baby Shower from OntoBaby.com 
From the food to the decorations, this party screams fresh, fun, spring, and divine.
This party from LifeRearranged.com blog showcases a Woodsy "Twice as Nice" diy theme, which has an earthy feel but is just as adorable:
This "How Tweet It Is" bird-themed multiples baby shower party is one of the most unique themes we found out there, but if you are crafty, and love birds, this is the theme for you! We found it from Bumpsmitten.com: The cards:
The decor:
Sweet 'Tweets"; an ingenious way to make a simple party favor with minimal effort in the kitchen!
And if you are hosting a Noah'sArk Themed Shower, we found some amazing tips from Dandee-Designs.com and Cutest-Baby-Shower-Ideas.com, from decor to games, food and favors: Animal Cookie Favors: 
The 'Shower' theme, as inspired by the Noah's Ark adventure as well as reinventing the baby 'shower' idea itself!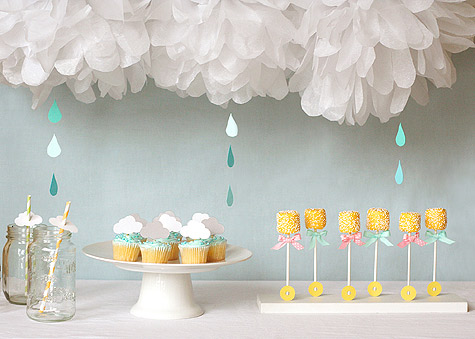 A Noah's Ark Cake and Cupcake themed set:
Shower Favors
When it comes to favors, you have the homemade route, or the store bought route. If you like to bake or are fancy in the kitchen, you can put together adorable foodie favor baskets for your guests. Think beyond a bunch of cookies – see our 'sweet tweets' favor idea above, where you can assemble a mason jar of sweets that you can make or buy to give to your guests. You can put all the components of your favorite recipes – from cookies, to soups, to hot chocolate – in jars for your guests to take home as well. It's an inexpensive way to give someone a sweet gift.
If you are feeling crafty and want to make your favors – but don't feel like baking – we've got some great ideas for you. There's always the craft expertise of Martha Stewart to fall back on, as well as some other crafty ideas: Small Potted Plants, Seedlings, Seed Packets, Soaps – think of things for 'starting a new life', as this party is celebrating the birth of multiple new lives!
As always, leave a personal touch on the favors – a name on a ribbon, or a small thank you note inside the gift is a nice touch.
We also find scrolling Pinterest to bring lots of unexpected inspiring ideas
If you are buying gifts, we have a few ideas inspired by popular twin baby shower themes. Like these adorable pea pod candles. Even if you didn't have a Pea-Pod themed shower, these candles would make a perfect parting gift (from Favorwarehouse.com):
Or you may opt for a "Perfect Pair" themed favor courtesy of MyWeddingFavors.com. Works just as well for a wedding as it does for having twins!
Category: TwinLife Baby, TwinLife Parent